Book Your Appointment Now And Get 25% Off
Awesome Monsoon Sale – 25% OFF On All Nail Salon Services From Only ‎Rs. 499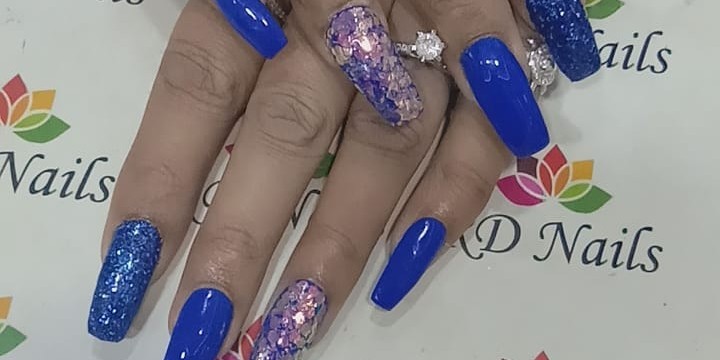 Nail art is a creative process of painting, decorating, enhancing, and embellishing the nails. It is a type of artwork that is done on toenails and fingernails, usually after manicures or pedicures. Manicures and pedicures are beauty treatments that trim, shape, and polish the nails. This process also involves the removing of cuticles and softening the skin around the Nails. There are many types of Manicures & Pedicures ranging from polishing on natural nails to powder dipping and acrylic nails.
This type of Art also includes painting decorative designs on the fingernails. Many varieties of designs are available ranging from subtle and minimal to funky and jazzy. You will need a professional for complex designs, but it's possible to create simple nail art at home.
The First step to any successful nail design is cleaning and shaping the nails. This is done by trimming the nails and filling it to uneven the rough surface of the Nails.
Types of nail Art Designs
1. Nail Styling & Art
This is the most Basic and Simple Type of Art which Doesn't require visiting Nail Art Salon in Delhi and can also be done at Home. The designs are very simple and often comprising of one or two colors.
2. 3D, 4D Nail Art Set
In this type of Art multidimensional designs or patterns are made on the fingernails. Sometimes, they are created on fake or acrylic nails and then applied onto the natural nails.
3. Glossy Nail Art
As the Name Suggests, Glossy Nail Art is a type of Artwork in which the nails are give high gloss or sheen. Air Brush Technique is often considered as the best in this type of Art.
4. Matte Nail Art
Matte Nail are increasingly popular style nowadays. The Matte finish Gives the Nails a distinct texture which is bound to attract attention. Matte Nail Art looks the best with Darker color Shades.
5. Chrome Nail Art
Chrome Nail Art Gives the Nails a metallic color and shine. It usually looks like Steel or Aluminum Surface. This type of Art requires a lot of attention and care as a little damage to the nails become easily visible.
6. Glitter Nail Art
Small shiny particles called Glitter is used in this type of Nail Art. Glitters can be mixed with Nail Paint and Applied Directly, or Spread on the surface of undried Nail Paint.
Is it Possible to do Nail art at home?
Yes, Simple Nail Art can be done at Home, but intricate and complex design requires the precision of a Professional and Trained Nail Artist.
Steps to do Nail art at Home
Purchasing a good Nail Art Kit: We Recommend purchasing Store2508® Super Value Combo Kit of Nail Art Tools. If you are on a tight budget, you can buy this.
Removing of Old Nail Polish: Any old Nail Polish should be removed properly before doing any kind of Art on Nails. Nail Polish can be removed by using Nail Polish Remover.
Trimming and Filing of Nails: You should trim your Nails properly and file them to remove any rough edges. Nails should not be trimmed too much as designs tend to look better on Long Nails.
Application of a Basecoat: Basecoats are usually Transparent in Color. There are many advantages of using Basecoat such as protecting our nails from harsh Chemicals, discoloring & Chipping.
Final Step: Application of Paints, Glitter and Jewels. You can get creative by using multiple colors, shades, gradients and more. One can also draw patterns or drawings if you are confident enough.
7 Most Popular Techniques of Nail Art
1. Brush Painting
It is the Most Common form of Nail Painting and also the easiest one. As the name suggests, Brush Painting is one using Synthetic Brushes with fine Bristles which come in various shapes and sizes. Usually Nail Paints come with Nail Brushes, but for higher accuracy one will require multiple types of brushes such as flat, angled, detailing etc.
2. Stamping
In this technique, a base paint is applied first and then a pattern or design is stamped on top of it using a stamp plate. A transparent coating is often required to uneven the surface and getting glossy finish.
3. Taping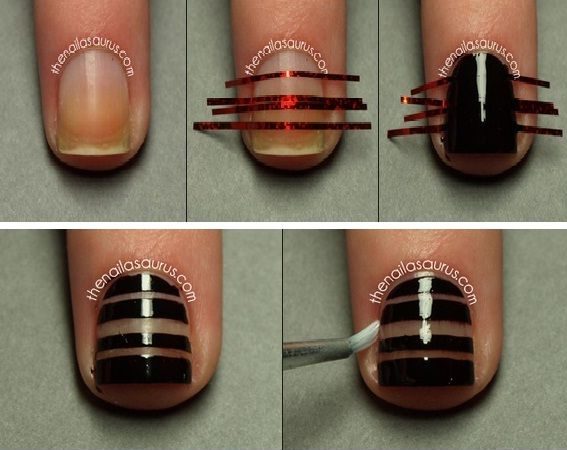 This Technique also requires the application of a Base Coat. Basically Tape is used to cover up areas which are required to be in Base Color Itself. After Application of next color our pattern, the tape is removed revealing the Base color which gives a distinct look.
4. Digital Nail Art Printing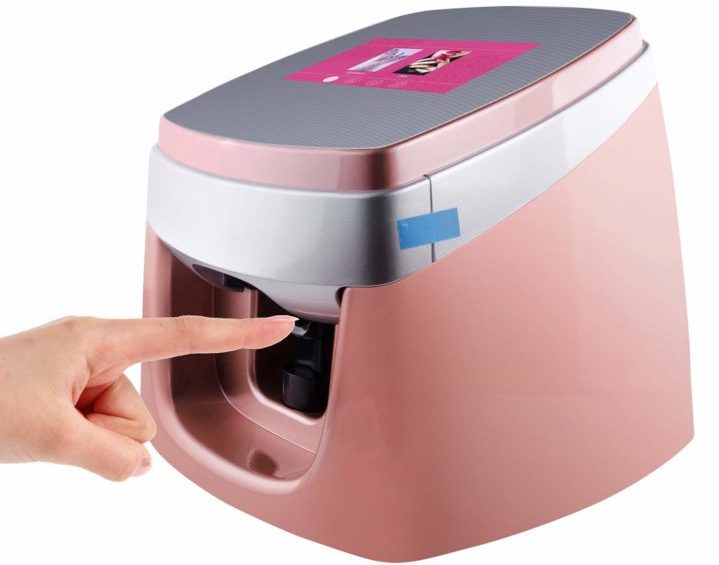 This Technique is fully Digital and Automated. Hence, It can produce the most intricate designs in the shortest span of Time. These Machines are expensive and hence not recommended for home use. 
5. Using Stencils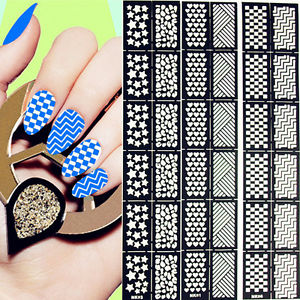 Stencils are thin Nail Shaped Materials with cut out designs and patterns on them. These Stencils are placed on top of nails and then Nail Paint is applied through those cutouts. 
6. Air Brush Nail Art
Water based Nail Paints are mostly used in Air Brush Nail Art. In this technique Nail Paint is sprayed in the form of fine droplets onto the Nails. This can be combined with stencils or stickers to get the desired look.
7. Decals and Stickers
This is one of the latest trends in Nail Fashion. As the name suggests its just a sticker applied on the nails with base coat applied. It is very easy to apply and therefore perfect for home use. 
Cost of Nail Art in Delhi
Nail Art Per Finger
Rs. 25 to Rs. 160
Nail art jewellery
Rs. 5 to Rs. 150
Nail piercing
Rs. 200 onwards
3D nail art
Rs. 200 onwards
Why RD Nails are one of the Best Nail Art Salon in Delhi?
We have the most Trained and Well Experienced Nail Artists across Delhi Region.
Providing a Healthy, Safe and Hygienic Environment is our topmost Priority. We strictly comply with the government regulation for COVID-19. 
We follow the latest Fashion Trends. We also offer Customized Nail Art Designs for every occasion like Marriages and Parties. 
Affordable & Flexible Costs. We are proud to offer 100% Cost Transparency.